Your protection for a youthful appearance
The sun has many positive effects on our body and well-being. It assures us of a healthy metabolism, inner balance and helps the skin to produce vitamin D. But too much sun can damage the skin considerably.
We humans need the sun and light as a powerful source for a healthy metabolism, well-being and inner balance. Without sunlight our metabolism would have a lack of vitamin D, only with the help of ultraviolet rays can vitamin D be produced in our body.
Our skin protects itself against harmful radiation, but only a healthy skin is powerful enough to protect itself. That is why a healthy lifestyle and preventive care are important.
Dermatologists agree that premature aging is also caused by uncontrolled sunbathing. The worldwide increase in skin diseases (and skin cancer) is primarily due to excessive UV radiation
Mila D'opiz
Mila D'Opiz developed the Mila Sun line to help our skin reach an effective level of protection.
Mila Sun was developed according to the newest criteria of the EU committee, is easy to apply and protects the skin extremely effectively.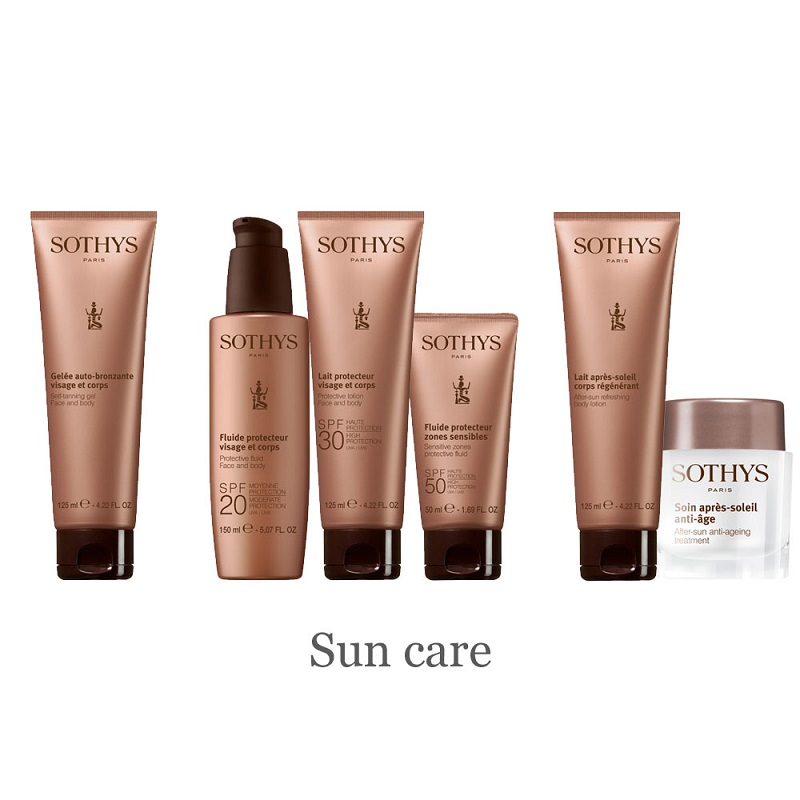 Sothys
The six new products in the series with ultra sensory textures and floral and vanilla perfumes are not only a delight for the skin, but also offer it protection.
In this way you can optimally benefit from all the good things the sun has to offer all summer long ...
and a radiant tan.
CALMING - the care products for after tanning
Two melting textures with plant-active ingredients that have been specially selected to soothe and sublimate the skin after tanning.
Aftersun with anti-wrinkle action for the face
This caring formula with light and sliding texture envelops the skin with a veil of softness and comfort after tanning.
This cream is specifically for the face and is enriched with an extract of lychee, that
is known for its wrinkle-fighting properties.
A cream that ensures that every skin type retains its youthful appearance during sunbathing.
The plus points of the product: can be used as a mask to give the skin a really soothing bath, or as a night cream in the summer.
Repair aftersun milk for the body
This ultra-aromatic and melting lait immediately soothes the skin and sublimates the skin
after sunbathing. The skin is nourished and supple and shows a long-lasting radiant tan.
The plus points of the product: as an alternative to the usual body lotion in the summer.